Drive System Adoption in your Organization: Bancroft
Recently we worked with human services nonprofit Bancroft. Along the way, we had the chance to hear more about their long-running programs and 130-year history from Fina Nash and Rex Carney, VP of Information Technology and VP of Marketing and Communications at Bancroft, respectively.
We learned about their inspiring goal to change the way that society views individuals with neurological impairment. Bancroft offers a variety of services to both children and adults with traumatic brain injuries, as well as those with developmental and behavioral disabilities.
To aid them in this work, they built an admissions, intake and marketing solution to streamline their internal processes. This was also part of a larger vision surrounding Bancroft's data. Carney noted, "Nonprofits increasingly need to think about being more efficient and moving faster. We need to be able to respond to partner and funder relationships with clear data relating to service lines. The ability to make better, data-driven decisions is crucial!"
After the system's implementation, Nash and a few other members of Bancroft led an effective initiative for ramping up its adoption across their staff. We think that their model could serve as a great example for other nonprofits. Read on to find out how they did it!
Changing the face of neurological impairment
"Bancroft offers a continuum of care for those we serve, and we function like a special needs school, a rehab/outpatient facility, and a residential program all rolled into one," Carney said. Bancroft, which serves 1500 per day, across New Jersey, Pennsylvania, and Delaware, is a heavyweight in its field.
Their service lines are divided by brain injury rehabilitation, special education and autism services. These programs are further subdivided into children and adults. For children, services include school, day services, general health, and behavioral stabilization. For adults, the range expands to include vocational services, group homes, and more.
Bancroft is staffed by over 2000 employees, including teachers, nurses, clinical staff, behavioral psychologists, and neuropsychologists.
Their work helps a diverse group of people. One such person is Brian Davis, who suffered a traumatic brain injury after his tractor and trailer was hit by a truck that swerved into his lane. Bancroft helped Davis sort through the physical challenges and emotional pain, and ultimately return to his farming livelihood. You can watch his moving speech from a "Bancroft Unplugged" 2012 event here.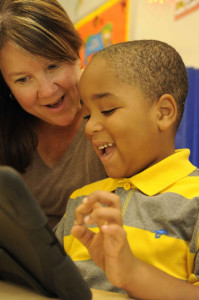 Another such person is Devonlee Mullings [pictured], a 5-year-old boy with autism who wasn't reaching his goals in his public special-education program. After just three months in Bancroft's Early Education Program, Devonlee made big leaps in his abilities. Now, he raises his hand in class and uses full sentences to answer questions. He has fewer temper tantrums and is actively participating in learning activities.
Devonlee's mother, Blassent Mullings, said, "Devonlee is doing things now that he was never able to do before coming to Bancroft. He's more focused,  he'll sit and play longer. Before, he would just run away. He communicates more, he's learning to share. We are so happy — it's like we struck gold."
Their powerful system adoption strategy and how they did it
In order to make full use of their new admission and marketing management solution (and enable greater speed for tasks such as intake for individuals like Brian Davis and Devonlee Mullings), Bancroft needed a smooth transition to the new system by their staff. Nash and a small crew from the IT team headed a successful staff training initiative.
Bancroft achieved this feat with a multi-pronged approach. They developed training materials in-house and distributed them to staff. They held a group classroom training. Later, they offered follow-up training for whomever requested it, as many times as requested, personalized to that staff member's work and location. They also employed Salesforce Chatter as a communication tool to remind staff of various tips and techniques. Nash estimates that within three to four months, the number of staff users had climbed from six to 100.
How to foster system adoption in your organization
Nash offers the following advice if you are looking to spearhead a similar initiative:
Follow keep-it simple principles. Use as little info as you need to have staff understand. Don't overwhelm!
Be to able to train on the process versus product. That is, connect with your audience by making the training relevant to them, showing what they stand to gain in their work by transitioning to the new process.
Paint a clear picture for staff. You can employ training handouts illustrating "this is the current process" and draw it out visually, so they can envision how exactly the process will change for them.
Have follow-up. Plan a three-month period where staff can contact you to be instructed again. At Bancroft there were fast studies, the majority got it after training, and some needed three to five follow-ups. Account for all stages of competency.
Incentivize team with easy-to-create reports or other perks of the system that they have been wanting to accomplish in their work.
Establish champions of the new system in each of your service lines.
All images by Bancroft, used with permission.