My interactions with clients, prospects, colleagues, partners, leaders and influencers in the nonprofit space have been a source of inspiration for me over the past 12 months. I am constantly reminded of the purpose and meaning behind our work: creating impact.
As the year comes to a close, I would like to share two of my observations from 2018, as they signal a broader understanding of how technology can be a game-changer for nonprofits of all sizes.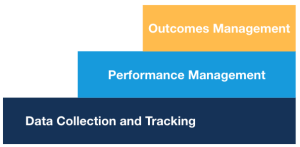 First, there is a clear shift in mindset as organizations accelerate their use of technology to measure and achieve impact. In prior years, organizations have looked at information systems functionally to support fundraising, marketing, and programs operating in silos, rather than in a coordinated way. Now, the conversation has expanded and evolved to address whole-agency solutions that support all of these important areas. The jury is no longer out: transactional, point solutions are inadequate when trying to serve the broader needs of the organization with a bigger picture goal of achieving impact. The need for integrated impact platforms, which truly help changemakers use data for impact, is becoming more widely understood and is being embraced by nonprofits across all categories—from human services agencies to education changemakers to foundations.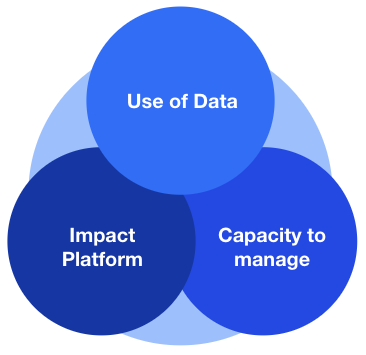 Second, for those organizations that have made the commitment to implementing an impam ct platform, there is a growing appreciation for the capabilities and skills required to get the most out of these investments. The journey toward using information systems in a high-impact way increasingly means building the team, the knowledge, and the processes to manage information systems well. Information systems management requires different capabilities at different levels, going beyond system administrators to include processes, tools, and skilled individuals individuals who will operate, manage, and expand that impact platform over time. Change management, systems adoption, user training and support, systems administration, data and security management are all examples of the core competencies that organizations must look to acquire.  As the use of impact platforms becomes more sophisticated, the management of this technology must follow suit. Software and tools are important pieces of the puzzle, but another piece—staffing and processes—is now garnering the attention that it deserves. Many nonprofits now recognize that in order to create and fully leverage an impact platform to manage operations, achieve high performance, and strive for outcomes, they need certain elements in place.
I am personally excited to witness this change, and to be part of this transformation of our social sector. As changemakers, all of us at Exponent Partners believe that these two ingredients—impact platforms and capability in managing them—must be combined with a third one to support an organization's success and social impact. So much so that they are are enshrined in our own organizations' theory of change.
That third capability lies in the use of data. It is progress in this area  that gets me fired up! All across our incredibly diverse nonprofit sector, we are seeing increasing attention to how information is used to support, grow, and accelerate social impact. In our work, we see more sophisticated methods of visualizing and analyzing data, applying machine learning to data sets of program interventions to generate predictive and prescriptive information, and generating evidence of program performance and success. In our clients and partners, we are seeing evidence of an increased focus on using information well. Often this takes the form of new position titles, such as Chief Impact Officer, Data Scientist, and those that I often—tongue in cheek, of course!—call the "ampersand positions": Monitoring & Evaluation. Data & Learning. Knowledge & Outcomes. These positions indicate that the organization is going from being a transactional user of technology—where data is only being tracked and reported—to managing and leveraging data as a strategic asset.
As I look forward to 2019, I am optimistic and energized by the change, the opportunity, and the social impact that lies ahead!