Planning Tips from a Dreamforce First-Timer
Large dogs can be pretty scary before you get to know them. Will they love me? What if they try to bite me? In a similar vein, one of the largest technology conferences in the world—with roughly 170,000 attendees and over 2,500 working sessions, a surprise concert—sparks a modicum of trepidation. Dogs are usually quick to offer unconditional love; I'm hoping my first ever Dreamforce experience does the same.
This November, I'm packing my bags and heading to California for Dreamforce, the annual conference hosted by Salesforce. Every year, the Salesforce community of users and IT professionals meet in San Francisco to learn about new product releases, hear about specific industry success stories, and see first hand how consultants like Exponent Partners are solving the world's problems with cloud technology. It's an inspiring opportunity to learn from the brightest industry thought leaders, network with peers, and enjoy the fully immersive, carnival-like experience.
The Learning Journey awaits
You don't have to attend Dreamforce to tap into the community and begin your journey. There are plenty of learning opportunities available online, too. Trailhead, Salesforce's training program is a great place to start. Each module in the training curriculum earns you a badge and as your related points add up, you level up the Trailblazer ranks. You can often find me tackling new trails and I'm proud to say I've officially reached Trailhead Ranger status. I also recommend watching the newest video on Salesforce's YouTube channel. I'm excited to take my Salesforce learning to the next level at Dreamforce, and curate my experience with specific talks, workshops, and seminars to really bolster my Salesforce knowledge base.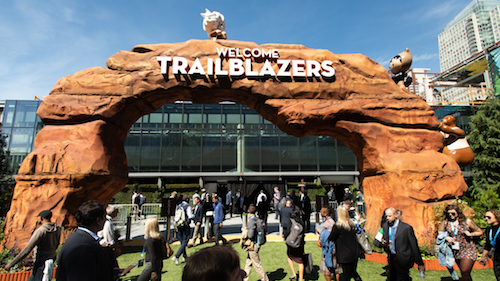 Charting a Course at Dreamforce
If you're also attending Dreamforce for the first time, consider how you can make the most out of your experience. For example, I know how I tend to learn best at a conference; I take the session list and build out my agenda with sessions that pertain to my interests and my career. Dreamforce offers an helpful agenda builder  via the web or their mobile Events app.
Don't Forget Snacks and Downtime
At conferences, I like to carve out breaks where I can journal and process what I've been learning. I pack snacks and my Nalgene water bottle. I make sure that I spend my morning before the conference meditating to clear my mind and make some space for all the new things I'll be learning. If you're a first-timer to Dreamforce like me, you should anticipate that Dreamforce will be a bit "more" than your average conference and take steps to not get overwhelmed. I'm going to make sure I do everything in my power that I'm ready for it.
Stay Focused on Your End Goal
As November 19th gets closer, I'll begin approaching my Dreamforce planning with less reverie and more intentional thought. For now, I'm going to remind myself that the end goal of Dreamforce is to leave knowing more than you came with, and to have a year's worth of inspiration to motivate you. Like I said, big dogs are scary before you meet them. I think I'm going to like this one.