Letting Your Empathy Shine Through Your Processes with Client Journey Mapping
"I just want to get through all this paperwork so I can get to the helping people part!"
Over the last 15 years working in the human services field focused on data and compliance, I have heard this frustration more times than I can count. Nonprofit organizations, particularly those in human services, often have complex or lengthy processes to both intake and provide services to clients. We can all list the variety of valid reasons why the path to that helping part is full of forms to complete and documents to get signed. From making sure that we have informed consent, to collecting the data each funder wants to know, and even to wanting more information so that we can learn about and advocate for the people we serve, each step, while important on its own, can start to add up and feel like an obstacle course for both the direct service professional and the person seeking assistance. 
Can we have the best of both worlds?
Luckily, there is a way to structure your processes in a thoughtful way that balances the vital need to check the boxes for data and compliance while embedding focus on the client experience. In fact, I would argue that doing so will improve the quality of the data collected and better engage both your staff and the people you support. For example, a lengthy intake process may be at odds with what program staff ultimately want to achieve: building trust with clients, meeting their immediate needs, and having long-term impact on their stability and success.  
So how do you identify where you can be intentional about embedding your empathy into your processes as part of the client's overall experience with your teams? Well, there are two complementary tools that are widely used to define and visualize a set of experiences: a process map and a client journey map. I'd like to share the differences between these two tools and how each working together can provide insights into how to balance process efficiency and data/compliance needs with the client experience. While many organizations are familiar with a process map, pairing with a client journey map may be new to you.  A client journey map is a great way to view processes from a new perspective and can be instrumental in helping assess your processes and reorder them to improve client and staff experience.
Process mapping vs. client journey maps: What's the diff?
The fundamental difference between these two models is that a process map is outlined from the perspective of the staff while a client journey map views the same interactions from the perspective of the client. Both tools are equally important and provide distinct views of an experience. When used together, you get a roadmap to efficient, quality service provision that feels less bureaucratic and more empathetic.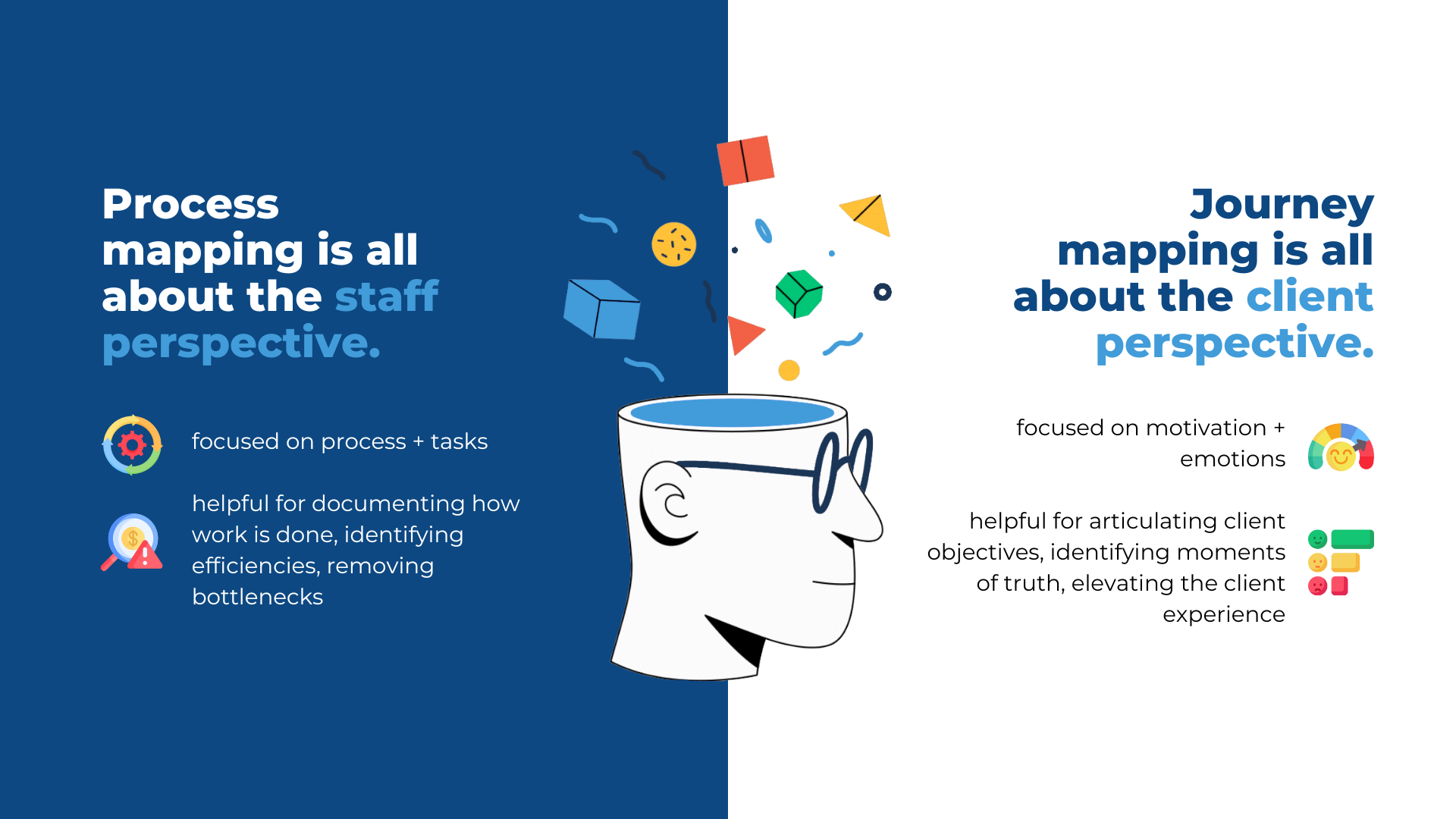 While the focus for a process map is to identify and visualize every process and task involved in intake or service provisioning, the client journey map looks through a different lens: client motivations and emotions at each phase. In the human services space, clients are often motivated by an immediate, pressing need such as having a safe place to sleep for the night. Understanding their primary motivation and the emotions associated can allow you to prioritize activities and tasks and identify those that can wait until a later date or time.  
A client journey map looks closely at each step of the way to ask:
What are the needs at that stage?

What is the person thinking or feeling?

What interactions are they having with agency team members? Are they in-person, on the phone or in a virtual setting?

What other things are going on in the family environment that may impact how they're feeling?

What is needed to move them on to the next stage  in your process?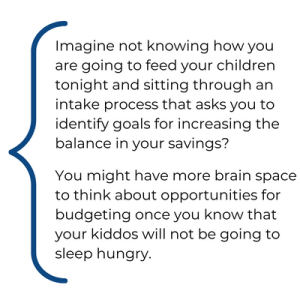 The real magic here is that by understanding where the client is coming from at each stage of your engagement, you can calibrate your interventions to build on the trust and rapport that happens over time to better sequence your activities for improved impact.  In addition to a stronger client and staff experience, the quality and reliability of the data can skyrocket as well.  
How can you use client journey mapping to incorporate the client experience into  your processes? 
In our advisory services practice, we work with nonprofit organizations in human services, education and philanthropy to map out their client's journey through their processes and seek out opportunities to structure interactions in a way that best supports their mission.   
We work with the folks delivering services to uncover three critical insights:
Moments of truth

: touch-points that have the most influence on the client 

Moments of glory

: opportunities to exceed the client's expectations

Moments of pain

: risks for bad client experiences
While we'd all like to just jump right in and get our neighbors what they need immediately, we have a lot of valid, real reasons for filling out those forms and capturing those signatures. Even so, we can restructure when, where, and how we do those important tasks to find the most optimal structure to support our operating demands within the client's current situation. Going through the activities of overlaying the client journey with your process map can be a powerful tool to find that balance.