Helping Students Succeed: Scholarship Management for Grantmakers Using Salesforce
Modern scholarship management solutions can allow nonprofits to efficiently deliver funding to scholars, connect directly with financial aid partners, and track relationships with alumni. As such, these platforms are an attractive alternative to inflexible legacy systems where data is captured and held in isolation. The more sophisticated options can provide easy access to real-time data and valuable insights that the organization can leverage to meet not only their own needs, but also those of various stakeholders. Making the leap from siloed data to integrated and actionable data can be a game-changer for a nonprofit, especially when it is done so on an extensible platform that can meet the needs of other areas of the organization.
This white paper will examine common challenges faced by scholarship granting organizations, typical drivers that motivate a nonprofit to address these challenges, and two scholarship management solutions that can be built on the Salesforce platform.
Challenges Faced by Scholarship Grantmakers
There are a common set of challenges that are often faced by scholarship granting organizations, especially ones that were established years ago, before technology had started to rapidly evolve.
Inflexible, Often Custom-Built Legacy Systems
Many organizations turned to building their own software solutions to meet what they perceive to be needs and processes that are unique to their organization. Some nonprofits would hire their own developers, whereas others would engage software consultants and developers to build a custom-coded database, which would then need to be maintained and supported either by the organization itself or a third-party with in-depth knowledge of how the database functions. Any changes to something as simple as a field label may require the additional cost of hiring external resources to update code. Plus, a simple code change could have additional, unintended effects in other parts of the system. This lack of flexibility and inherent constraints can be limiting for an organization, and force it to manage some scholarship-related parallel processes outside of the solution.
Data Siloed Across Multiple Systems
Depending on how an organization is structured, multiple systems may be required to support different stages of the scholarship management process. Oftentimes these solutions are not integrated, creating data silos across the organization, and making it difficult to manage risks as there isn't a holistic view of a student's situation. In such cases, data may need to be exported from one solution and imported into another one in order to achieve an objective. Such manual processes can not only be time-consuming, but they also introduce the likelihood of human error when data is being re-keyed.
Depending on the systems in place, it may be possible for an organization to integrate the solutions, but such integration would have financial implications, and might not allow for the real-time exchange of data. Such a lag in data exchange can be problematic as administrators do not have an accurate view into information related to a scholarship application, disbursement, or renewal.
Risk Management Gaps
Tied closely to data silos is an organization's ability to manage risks proactively. When data is housed in different systems, it can be challenging to gain a holistic view of each scholar. For example, if a particular scholar's award is tied to a grade point average, attendance, or other achievement, then the nonprofit needs visibility into this data in order to mitigate risks and ensure that the scholar gets back on track if they are beginning to falter.
Manual, Offline Calculations
Many variables influence the amount calculated for a scholarship award. Calculations can be challenging as they require the latest information from various sources. When such calculations are completed manually, offline, there is an increased likelihood for human error and the lack of data integration across systems also creates delays.
Paper-Based Processes for Signatures and Authorizations
At different stages of the scholarship management process, signatures and authorizations are required from various parties, many of whom are geographically dispersed. In 2020, this particular challenge was exacerbated by the pandemic as offices were closed and staff worked remotely from home. When data is not integrated, the paperwork that must be signed may have to be manually prepared outside of the system where the data is housed. Once again, this introduces the possibility for human error, not to mention an increase in time required to produce and process the paperwork.
Email or Postal Mail-Based Communication When Students Would Prefer to Interact via Mobile
Many scholarship organizations rely heavily on email or postal mail-based communications when reaching out to students. Such methods may be the easiest way for an organization to
manage outbound communications, especially when limited by functionality of their custombuilt solutions. However, they can leave the impression that the organization is behind the times as such channels are not the preferred ones of students and scholars who have demonstrated a strong preference to interact with organizations via their mobile phone.
Evaluating Scholarship Management Solutions
The desire to replace a legacy scholarship management solution with a more modern, sophisticated one can be motivated by several drivers.
Need for more control and independence
Many nonprofits often lack the in-house expertise of custom software developers, which leaves nonprofit staff reliant on external resources for changes or access such as importing/exporting data. A desire to have more control and independence is often a motivating factor for implementing a user-friendly solution that doesn't require coding skills for basic changes once it is live. Furthermore, empowering staff to be more hands-on can improve efficiency when it comes to accessing data and making changes. The ability to make changes without engaging external resources is also attractive from a budgetary perspective, especially as nonprofits face mounting economic uncertainty, requiring leaders to cut costs wherever possible.
Desire to integrate data with other solutions
As organizations turn to technology to automate processes and increase efficiency, they often need to integrate data across solutions, achieving a single source of truth as opposed to having disparate systems with siloed information. For example, many nonprofits host events–in-person or online–for their scholarship applicants, and often manage the related invitee information in an events management tool. The ability to integrate the data from such a solution directly to an individual's record can provide a more complete picture of the individual's interactions with the organization, and can also allow the organization to remind the student about upcoming events during a conversation about another matter.
Additionally, planning for future growth requires the organization to be forward-thinking in terms of how they will manage and integrate their data across solutions in the future. These immediate and longer term plans can lead an organization to search for a flexible and scalable solution that can be extended beyond scholarship management to include other areas, such as grants management and fundraising, depending on the organization.
Increase efficiencies for all users
When staff have to go back-and-forth between systems in order to access the data that they need to do their day-to-day jobs, they are less efficient. Moreover, if a staff member has to contact a colleague in order to gain access to the information they require, there can be delays.
Staff aren't the only users of scholarship management solutions. Other stakeholders, including financial aid partners, applicants, selected scholars, and mentors also require varying levels of access to relevant data, forms, and reports. The diverse needs of these different users create an opportunity to increase efficiency by centralizing data in a single location, where it can be easily accessed, on-demand, from anywhere.
Requirements provided by schools
Sometimes the requirements of schools can be a primary driver behind an organization's need to replace their legacy scholarship management solution with a more modern, accessible system. In some cases, for example, a school might request the ability to complete batch uploads of student information, rather than adding the data manually, one student at a time. This underlying desire for increased efficiency and streamlined processes can benefit both the schools as well as the nonprofit, not to mention the students and scholars as well.
Scholarship Management Solutions using Salesforce
Over 15 years ago, Exponent Partners chose the Salesforce platform for its nonprofit clients for several key reasons: flexibility, sustainability, and unparalleled technology. Users of Salesforce are able to take advantage of unprecedented reliability and core features, like mobile access, analytics, and a streamlined user experience. When it comes to scholarship management, organizations benefit not only from having a single source of truth in Salesforce, but also from the ability to efficiently deliver funding to scholars, connect with university partners and mentors, and track relationships with alumni.
As an organization grows, the Salesforce platform scales, offering the ability to flexibly add functionality that meets the nonprofit's evolving needs. Depending on grantmaker requirements and program complexity, organizations can expand their scholarship management with Salesforce modules as well as third-party apps on the Salesforce AppExchange. Nonprofits can choose from a variety of quality form builder apps for online applications to securely collect applicant information and integrate that data with Salesforce. In addition to a combination of third-party apps, some organizations may benefit from Salesforce Experience Cloud (formerly Community Cloud), a branded portal where users across all stakeholder groups— applicants, reviewers, employees, and partners—have direct, self-serve access to relevant data in Salesforce.
One of the many benefits of the Salesforce platform is its ability to be extended well beyond scholarships to include the management of relationships with other constituents and service the needs of other departments, including finance, fundraising, and grants management. This same flexibility enables the Salesforce platform to serve the diverse requirements of nonprofits of different sizes and with different budgets.
When Exponent Partners evaluates an organization's requirements related to scholarship management, various factors can come into play. Important considerations include budget (both for the implementation and for ongoing Salesforce licenses), timeline, and the access needs of various stakeholders.
Streamlined Data Collection with Third-Party Form Apps
Various types of form solutions are available through the Salesforce AppExchange, and can be used to meet the basic needs of a scholarship organization. FormAssembly is one of the leading web form platforms, but other form solutions based on Salesforce can also be used for scholarship management.
An organization that is simply looking to collect data via an online form that integrates directly into Salesforce would be a great fit for a form tool. This option is also appealing when there is a tight timeline for launch, and a limited budget for implementation and ongoing licenses.
The use of a form is perfect when the focus is on one-time collection of data from an individual and a limited internal audience will be reviewing the data collected. In such cases, an organization's business processes are typically relatively simple and straightforward. For example, if the selection process only involves individuals from within the organization, all of whom have a Salesforce licence, then using a forms solution will work well.
The limitations of using only forms are primarily that usage is tied to a limited internal audience that would have access to the data collected. However, as a nonprofit grows and their needs evolve over time, the form can be integrated into a series of more advanced processes and workflows that are managed on the Salesforce platform through Salesforce Experience Cloud.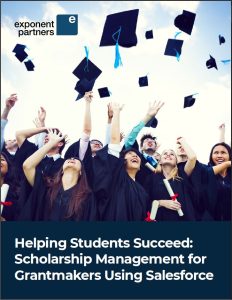 Download your PDF copy of Helping Students Success: Scholarship Management for Grantmakers Using Salesforce
Check out the webinar featuring The Ford Family Foundation. Guest speakers Denise Callahan and Ashley Potter will share their journey to Salesforce. The webinar will include a demo of the scholar risk assessments and more.