The annual Salesforce user conference finished up on Friday, September 28 and, once again, it was an amazing spectacle. Somewhere north of 150,000 people flooded session rooms around downtown San Francisco, all there to learn about some aspect of the Salesforce platform.
My first Dreamforce was in 2006, when I was one of 5,000 attendees. That year marked the launch of Apex, the Appexchange (it had over 400 apps!), sandboxes, validation rules, the new Classic user interface, and so much more. The keynote let us watch Marc Benioff log in on stage, head over to Setup, and configure Salesforce. It was quite a different world from 2018.
Dreamforce is a splashy event, and so there are always some big announcements. But because Salesforce has three releases per year, Dreamforce isn't a big-bang announcement-fest like events held by other companies, such as Apple. There's often some interesting new services, partnerships, and features announced, but we get used to the drumbeat of new features in October, February, and June each year, so sometimes Dreamforce can be a bit less dramatic than it seems from the outside.
Here are some of the interesting announcements  from this year's Dreamforce, plus a few others that were revealed over the summer.
Low Code Tools
From the start, Salesforce has had point and click tools to customize and automate the platform. There are two new low code tools that are interesting:
Lightning Object Creator allows you to turn a spreadsheet into a Salesforce application without any code. If you use spreadsheets for a process, you can drag and drop them into the Object Creator, review fields for accuracy and publish a digital form, available on desktop or mobile. You can further analyze the data or add it to existing records with support for Search, Notes or Files within Salesforce. Check out the blog post for additional details.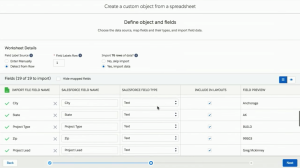 Lightning Flow Builder is a revamp of Flow Builder, which helped us all create drag and drop processes, forms, and automation. The look and feel of Lightning Flow Builder has been matched to the Lighting Design System, giving us a level of familiarity that improves the user experience. In addition, Salesforce announced Flow Actions – pre-built, reusable components that can be dropped into any Lighting Flow. Lighting Flow Builder and Process Builder have some overlap in what they can do–it's clear that Lightning Flows is where R&D energy is going at the moment. Here's a Trailhead that may help you better understand when to pick one over the other.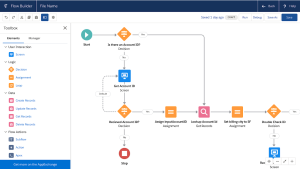 A New Lighting Page Layout Editor is coming in the future, and will include ways to filter out blocks of detail content based on context. While information is limited at this time, it's hard not to get excited about what this blog post says is coming–the power of having sections of a page render or not render based on data, user, etc. We've been wanting this capability on the platform since day one, and we've had to use Record Types as our only recourse other than a full UI rewrite. I'm excited to learn more!
Google released the Data Connector for Salesforce, a free add-on for Google Spreadsheets that allows you to query, create, and update Salesforce data right in a spreadsheet. While there are existing, similar tools, the fact this is put out directly by Google is interesting. I've used tools like this to do very complex data manipulation in a spreadsheet while maintaining the benefit of data directly linked to Salesforce. Simply press a button and your data is refreshed from your CRM. It's worth trying out the Data Connector–my only issue with it is that it will only pull 2,000 rows from Salesforce reports, leaving you with incomplete datasets. For very large data sets, you can write SOQL queries, or use a tool like Xappex's G-Connector.
The Einstein Family of Products
Salesforce kicked off Dreamforce with the announcement of Einstein Voice. The next version of the Salesforce mobile app on iOS will be able to take dictation, help you smartly connect that note to records it has discovered in your note, and even create or complete Salesforce Tasks. It's a pretty cool piece of app functionality.
You will be forgiven if you're not sure how this fits together with everything else that falls under the Einstein family of products. Think of Einstein as Artificial Intelligence on the platform, and you'll be mostly there. Each of the core areas of Sales, Service, Marketing, Commerce, and Community have turnkey tools that can be used to apply artificial intelligence in smart ways to solve common problems. In Sales, for example, Lead Scoring uses artificial intelligence to prioritize the Leads that are the most likely to turn into deals. There are about 15 of these out-of-the-box AI components listed on the Salesforce Einstein product page.
In addition to those turnkey components, there are a number of Einstein services created for platform developers. These services allow developers to build their own AI tools to work with Salesforce. With Prediction Builder, Language, Vision, and Bots, developers can tune AI for use cases that are unique to their industry or  specific needs. We are very excited about Prediction Builder. Lead Scoring for salespeople is a nice feature too, but we're much more interested in the possibility to use AI to identify the right interventions for kids receiving services from a direct-service nonprofit. This is an exciting toolset on which to build really smart software, and we are just at the beginning of this journey.
The final member of the Einstein family is Analytics, and it really is different from the others.  Formerly called Wave, Analytics is a data visualization and dashboarding solution. It has an AI component called Discovery that analyzes large data sets and helps see connections between data that might not be clear at first glance. But all in all, Analytics is more about data and dashboards than AI.
A Million Other Things
Salesforce.com spends around $1B on R&D every year, so it is impossible to note every improvement they have made, even in the last few months. All you have to do is watch this DX Super Session to see how many new technical aspects of the platform can be jammed into a 40-minute presentation. It's remarkable, and a big reason we love Salesforce–it's being driven forward by an economic engine much larger than the nonprofit sector could ever generate, and we get to take advantage of all of it. The hardest part is keeping up!