TAG Conference 2018 – Impressions
I was fortunate to have attended the TAG 2018 Annual Conference last week in Tucson, AZ. As I expected, it was an incredible opportunity to network, explore and learn alongside others who are committed to philanthropy and technology. And what a beautiful location for this fantastic event.
TAG kicked off with an incredible keynote by Larry Irving, a well-known and highly-regarded technology strategist who coined the phrase "digital divide" while in the Clinton Administration. Larry's keynote was a great launch point into the conference as attendees had an opportunity to consider and discuss how they could use technology to truly change the world. Indeed, access to technology is a game changer in society and can transform the way people think, vote and live.
However, much of the philanthropy space is still talking about tactical solutions to solve operational challenges. Some are leveling up to integrating technology, processes and staff, so that their organization can gain access to solutions that can measure impact and foster positive and inclusive experiences for grantees. It can be challenging to make this kind of change in an organization, especially since the philanthropy culture changes slowly. (In fact, an entire session was dedicated to the topic of making change!)
There were also several sessions about effective project management and unique methodologies to develop positive user experiences. We were encouraged to hear a great deal of discussion about Salesforce and its benefits as a platform. Equally as exciting was that it was standing room only for the session, "Choosing a Platform for Philanthropy: Grants Management and Beyond," which was hosted by Exponent Partners' very own Steve Andersen. This popular session featured speakers from Hewlett Foundation, Chan Zuckerberg Initiative, and Heising-Simons Foundation, all of whom shared their positive experiences using the Salesforce platform. There was a great deal of picture taking happening when each speaker displayed details about the many applications they use in their solutions! (One of our clients, Campbell Foundation, uses many of the same apps. You can find out more in our case study.)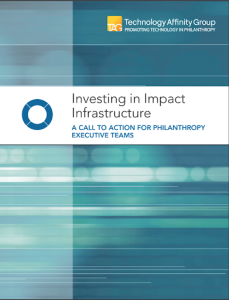 But, for me, the biggest aha moment came when the report, Investing in Impact Infrastructure, was released at the conference. YES! The report aligns with our strong belief that leaders in philanthropy need to start investing in technology in order to maximize their organization's impact.
This report is definitely a great start towards promoting the shift from finding solutions that will solve operational challenges towards defining approaches that document and measure key impact data. As the report says, "The current state of philanthropy requires a more integrated holistic approach."
Frankly, we couldn't agree more.