A Salesforce Career with Supermums and Exponent Partners
In early 2020, Exponent Partners became the first sponsor of the Supermums network in the United States. Founded in 2016 as a social enterprise, Supermums helps parents eager to re-enter the workplace by harnessing the Salesforce ecosystem for career opportunties. One of our participants in the inaugural U.S. cohort, Anita Lavey, successfully completed the program and found employment working with MuleSoft, a Salesforce company and leading integration platform. Having stepped away from working full time to raise her children and ready to return to the workforce, Lavey discovered the Supermums network and got hands-on experience with Exponent Partners. Now a few months into her new Salesforce career, we recently caught up with her and asked about her experience with the program.
1. What was your favorite part of the Supermums program?
My favorite part of this group is the hands-on learning experience. I completed nearly 150 badges in the Salesforce Trailhead training program during the Supermums System Admin course, but Supermums also had additional weekly homework assignments where I actually applied my new skills to a real-world situation. This challenged me on another level and helped me feel much more confident in my Salesforce Administrator abilities. I could not have had my exceptional hands-on learning experience with Exponent Partners without the Supermums program. It is the most valuable way to learn Salesforce — and be the most confident in your abilities.
2. Can you describe the hands-on learning experience you had with Exponent Partners as a Supermum?
My project role was to work with the skilled consultants in a very large conversion project moving from Salesforce Classic to Lightning. There were over 100 custom objects and many conversion issues that needed to be documented, tested, and rewritten. I worked not only with the Salesforce Admins, but also with the development team using Jira and other software development tools. I updated User Acceptance tests, documented the install and validation process, helped redesign some user application screens and custom fields, and even uncovered some new issues as a result of my Salesforce user tests. I was a trusted member of the Salesforce team, using my new talents to help this customer be successful. It was fantastic.
3. Would you refer others to the program and why?
I would absolutely recommend this program! This is by far the best way to join the Salesforce Ohana and to use your skills in real-world applications, not just learn concepts in a classroom. All the instructors are extremely knowledgeable, with many real-world examples. The Exponent Partners consultants were very supportive and were eager to help me become a trusted part of their team. I think these are the key points of this program that you can NOT get anywhere else, and I feel so much more confident and ready to take on any Salesforce situation because of this experience and their continued support even after the class has ended.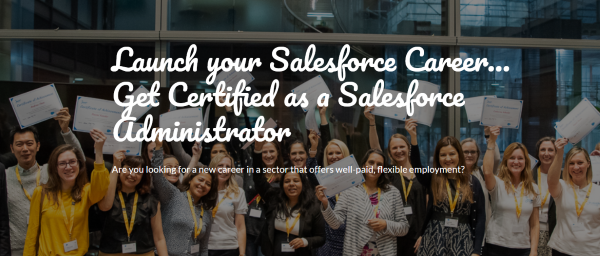 4. How have you applied what you learned in your new Salesforce career?
This experience has been the best relaunch effort I have ever made. I have not only used all the technical Salesforce Admin skills from the course, but there is also a module on how to prepare your resume, your interview skills, and Linkedin. Through my hands-on experience with Exponent Partners, I have also re-explored my software development skills using Platform App Builder, Apex, and Jira, along with other development and documentation tools that I am using every day in my current role. I feel much more confident in my role today and that is all due to my experience with the Supermums course and hands on experience with Exponent Partners. I cannot express enough how grateful I am to them for this career opportunity.
5. Do you have any final advice for parents considering rejoining the workforce?
I have to be totally honest — there is no other way that I know of to get this kind of preparation and experience than to complete the Supermums courses. Heather Black has created an exceptional program to help those of us who have been away from the high-tech world for a number of years, to rejoin with confidence and opportunities. I had spent a number of years trying to find an organization that I felt was worthy of my trust and gave back to the community. That company is Salesforce. Their software is exceptional, it is no wonder so many companies rely upon Salesforce to bring them to the Cloud. There are so many job opportunities available in the Salesforce Ohana, and I completely trust the Supermums program. It is the best way to gain your best skills and experience for Salesforce. Believe in yourself, take this course and make your career goals happen.
Get Started Today
Learn more about whether a Salesforce career via Supermums is right for you by visiting their website and online community.  Already a Salesforce pro interested in how you can serve leading nonprofits in human services, philanthropy, and education? Check out the Exponent Partners open positions.