Salesforce Nonprofit Cloud: Optimizing Programs in Human Services Organizations
Salesforce Nonprofit Cloud is a game-changer for human services organizations. 
Announced in Spring '23, the solution is designed specifically for nonprofits and provides key functionality and foundations built directly on the core platform. It's an innovative step away from the managed packages previously chosen by nonprofits—such as NPSP—and offers some crucial advantages when it comes to program and case management.
Salesforce Nonprofit Cloud can fundamentally change how organizations handle and maintain their data, cases, and client journeys. It empowers nonprofit organizations to better leverage data, workflows, and automation that unleash improved performance, processes, and strategies.  
Keep reading to learn more about how Salesforce Nonprofit Cloud can optimize programs in human service organizations.
What Is Salesforce Nonprofit Cloud?
Salesforce Nonprofit Cloud is a comprehensive Constituent Relationship Management (CRM) platform tailored for nonprofit organizations. It provides a centralized solution for program and case management, fundraising, donor relationships, and volunteer coordination. For those unique human services organizations managing outbound grants, it also offers high-caliber grants management capabilities.
Salesforce Nonprofit Cloud empowers organizations to better connect with supporters, effectively serve clients, monitor impact, and achieve shared goals effectively.
Where Is Nonprofit Cloud Used?
Salesforce Nonprofit Cloud is suitable for human service organizations of all types, from small community organizations to multinational NGOs and foundations. It offers various components that can be used to improve operations and the customer experience, such as: 
Case Management –

Effectively manage and monitor all client cases to ensure personalized support and service delivery.

Program Management –

A centralized platform to plan, execute, and track various activities and projects within any nonprofit program.

Account Management –

Easily manage and track engagements across all accounts by getting a unified view of each individual, donor, volunteer, or partner.

Campaign Management –

Plan, execute, and track all community outreach, marketing, and fundraising campaigns.

Donation Management –

Capture and store donor information, track donation history, and manage gift processing. Whenever required, customize donation forms to enable donors to contribute online securely and conveniently.

Marketing Automation & Engagement –

Drive impactful marketing campaigns by leveraging tools and capabilities that automate and personalize communications, nurture relationships, maximize support, and deliver exceptional digital experiences.
Why Did Salesforce Launch Nonprofit Cloud?
Salesforce for Nonprofits was primarily created to help nonprofits build donor relationships that drive change. According to Lori Freeman, VP & GM of Nonprofits at Salesforce,
"Salesforce's vision for nonprofits and foundations has always been to put the best technology in impact-makers' hands and enable them to deliver powerful experiences for their stakeholders."
With its existing capabilities, Salesforce Nonprofit Cloud services can help human services organizations adopt a simpler way to produce and measure impact.
Salesforce Nonprofit Cloud vs NPSP
Before discussing the many use cases of Salesforce Nonprofit Cloud, it's important to understand the difference between Nonprofit Cloud and Nonprofit Success Pack (NPSP). Here's a breakdown to help highlight the differences.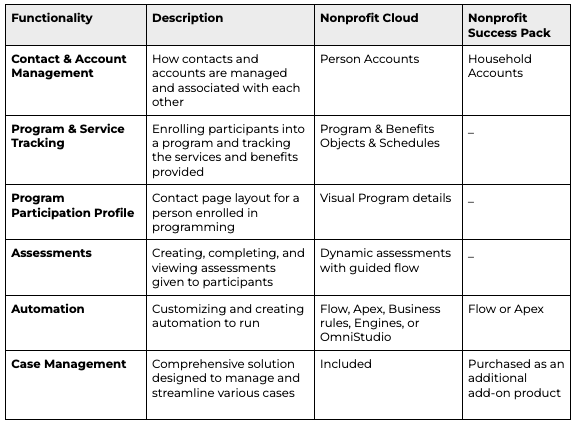 Nonprofit Cloud has taken the existing managed package solutions available in Salesforce for Nonprofit, and developed them into an industry cloud designed specifically to meet the needs of nonprofit organizations. 
From a system setup standpoint, the difference is that the previous nonprofit applications were being layered on top of the Salesforce platform. Salesforce Nonprofit Cloud, on the other hand, is an industry solution built directly into the core of Salesforce—accessing the innovation across all Salesforce industries. 
Up until now, nonprofits have had to combine Salesforce solutions to create a program that supports their needs. Salesforce Nonprofit Cloud is designed to support nonprofits in a single solution.
Case Management with Salesforce Nonprofit Cloud For Human Service Organizations
Case management is a way for organizations to track goals, deliver services, and measure outcomes throughout customer journeys. Salesforce Nonprofit Cloud case management provides a single system for all case managers to track customer data to see their progress. It helps case managers:
Manage Relationships
Understand how participants and their families engage with programs. This data helps nonprofits provide holistic support and better manage customer relationships.
By leveraging relationship management capabilities, nonprofits can foster stronger connections, tailor outreach efforts, and engage with stakeholders based on their unique relationships and preferences. 
It enhances the overall effectiveness of the platform by facilitating relationship-based fundraising, volunteer management, and program delivery from one single platform.
Create Incident Reports
Stay updated with who needs additional follow-ups by keeping missed appointments or essential changes at the top. This module allows organizations to document and track incidents or events related to all services and programs. It can capture details about complaints, conflicts, positive reviews, or other noteworthy occurrences.
Personalize Care Plans
Create personalized care plans for all individuals and households within a few clicks. Nonprofits can document the goals, interventions, activities, and timelines for supporting clients. This includes clinical services, counseling sessions, educational programs, or other services necessary to meet the client's needs.
Track Services And Attendance 
Easily monitor and measure the delivery of services, track program participation, and assess the impact of programs on the intended population. Nonprofits can utilize this module to document service hours, program attendance, outcomes achieved, and a list of follow-up actions required.
Make Informed Decisions
Gather and analyze relevant data, trends, and patterns to derive important insights about programs, services, clients, and outcomes. Nonprofits can generate reports, dashboards, and visualizations to understand the organization's performance, constantly identify areas for improvement, and make strategic data-driven decisions that align with the overall business goals and mission.
Track Participant's Progress
Get an understanding of participants' progress toward goals and across different programs in one single view. Staff members can quickly access data to identify the best next steps for various participants. In case of immediate support, these cases can be quickly identified. This information can also be shared with stakeholders. 
Enhance Program Engagement
Through enhanced fundraising and engagement features, nonprofits can deliver hyper-personalized experiences at scale. Marketers and fundraisers can use AI-driven analytics to easily see the channels, campaigns, and messages most resonate. This information can be used to make decisions in real-time.
Should You Switch To Salesforce Nonprofit Cloud?
The answer to this question can change depending on some key considerations, which include the following:
Organizational requirements
Does your existing solution meet all your needs, or are you looking for ways to enhance efficiency and user experience? Do your users or constituents encounter any challenges with the experience you currently offer to them? The enhancements and advanced capabilities offered by Nonprofit Cloud could resolve current issues you face. For example, Nonprofit Cloud includes access to Omnistudio—Salesforce's digital engagement suite—which enables you to create prebuilt, guided digital experiences to improve the online experience for your constituents.  
  1. Impact of migration
What do you gain from migrating to Nonprofit Cloud? What capabilities do you want but don't currently have? It's crucial to understand that while available, Nonprofit Cloud the latest innovations for the new Nonprofit Cloud are still being released. Some solutions—like program and case management—are ready, but others—like fundraising management—are still in development. 
  2. Budget
How much does migrating to Nonprofit Cloud cost? Is the solution more than your existing system? Nonprofit Cloud is included in the Power of Us Program offered by Salesforce—in which nonprofits and education institutions get the first ten licenses free, and a 50-80% discount on additional solution purchases. Nonetheless, budget analysis is key—check out the pricing information for Nonprofit Cloud here.
  3. Staff
How many people do you have using your existing Salesforce solution setup? Are you able to budget for retraining your workforce and constituents? New software solutions typically require staff onboarding, which needs to be considered in the change timeline.
  4. Timeline
Have you got the time to make the shift? Can you dedicate time and energy into ensuring a smooth transition? Migrating your existing data to Nonprofit Cloud isn't something to be rushed—consider whether you're currently in a position to make the change. A good partner like Exponent Partners can manage a great deal of this effort, but your team will still need to be available and involved.
Salesforce remains committed to providing continual support for the pre-existing solutions servicing nonprofits, such as NPSP and program management module (PMM), so there's no urgent need to make the change. 
However, if you decide to transition to a more optimized solution, know that you'll have support every step of the way. Our team at Exponent Partners are expert Salesforce nonprofit strategists, system architects, project managers, and implementation specialists working to make nonprofits radically better at driving social impact.
Our expertise and long-standing involvement in the Salesforce for Nonprofits solution ecosystem stand us in good stead to support your nonprofit's next steps—whether that's migrating to Nonprofit Cloud or implementing custom Salesforce solutions catered to your needs.
Whether you're a current NPSP customer, a Salesforce customer using another Salesforce solution, or completely new to Salesforce—Exponent Partners have the knowledge and experience to help you find the right product path for your organization. 
How To Get Started With Salesforce Nonprofit Cloud?
Salesforce Nonprofit Cloud is purpose-built for nonprofit organizations—providing the tools you need to effectively manage and optimize nonprofit programs and constituent relationships. 
Schedule a call to learn how we can help you drive change in the world—whether through Salesforce Nonprofit Cloud or through a custom-built system oriented to your unique needs.