Webinar: Program Management with Einstein Analytics
Are you ready to leverage analytics for social impact with Salesforce? Einstein Analytics is a great tool for sharing data across multi-agency nonprofit collaboratives, alliances, and partnerships. This webinar will detail how Einstein Analytics allows the Chicago Benchmarking Collaborative (CBC) to visualize data in meaningful ways for actionable insights. Thanks to Einstein Analytics, the Collaborative can validate theories, problem solve together, and idea-share on the most effective program management strategies.
Einstein Analytics enables your organization to query and explore data across a wide range of systems. Program analysts and compliance directors can move beyond standard dashboards and reports. By creating an anonymized data warehouse, you can share program outcomes with other partner agencies as well as other departments within your organization. Unlike legacy Business Intelligence or desktop applications, Einstein Analytics is integrated into the cloud-based Salesforce platform.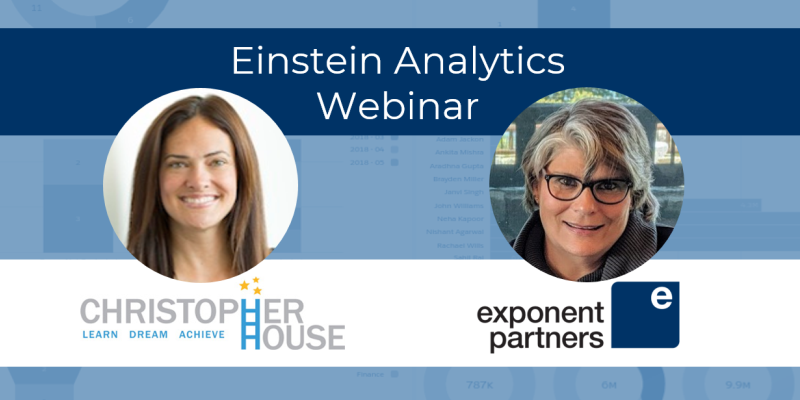 Featuring Meg Monti of Exponent Partners and Traci Stanley of Christopher House, the webinar is June 27th, 2019, from 11:00am – 12:00pm Pacific (1:00pm – 2:00pm Central / 2:00pm – 3:00pm Eastern).
About Chicago Benchmarking Collaborative
Chicago Benchmarking Collaborative (CBC) is an alliance of multiple education and human service agencies dedicated to increasing the quality of services offered to low-income families in Chicago's most underserved neighborhoods. Christopher House serves as both a member of CBC as well the Collaborative's Project Manager. Prior to launching the Salesforce platform with Exponent Case Management (ECM) and Einstein Analytics, time-consuming reporting meant infrequent benchmarking and lessened the value of the collaborative.
Compared to the previous solution, Christopher House has reduced three reports into one report of anonymized, standardized data for benchmarking. In the past, Christopher House used to manually create data visualizations for sharing with the rest of the Collaborative. Now, the responsive Einstein Dashboards help them visualize the data in ways much more meaningful than a number or percentage. This provides the Collaborative with greater transparency and insights. Moving forward, all collaborative members can view and explore benchmark data.
Read more: How Einstein Analytics Helps the Chicago Benchmarking Collaborative Improve Pre-K Literacy and Math Skills for Low-Income Children