Resident Services Program Evolved their Data Culture
Founded in 1982, the mission of Northwest Housing Alternatives (NHA) is to create opportunity through housing for families, seniors, and people with special needs across Oregon. In 2016, the Resident Services team engaged Evaluation into Action (EIA) to design a formal program evaluation system to demonstrate their program's impact. Co-written by Julia Doty, Director of Resident Services at NHA and Chari Smith, President of EIA, Program Evaluation and Data Culture in Resident Services details the 6-month process.  The paper outlines the planning, implementation, and results of their efforts, including NHA's selection of Exponent Case Management (ECM) as their cloud-based data tracking platform.
From Outputs to Outcomes
The Resident Services program's primary goal is to promote housing stability. EIA created data collection standards and processes, specifically designing a customized Housing Stability Assessment that helps NHA understand what program activities will best meet the needs of each resident towards stability.
NHA Resident Services was able to eliminate extraneous data points that weren't contributing to their overall reporting. Instead, the new program evaluation model expanded their understanding. Rather than tracking number of service requests fulfilled per year, NHA can now report on the percentage of residents who had a service request fulfilled and improved their housing stability.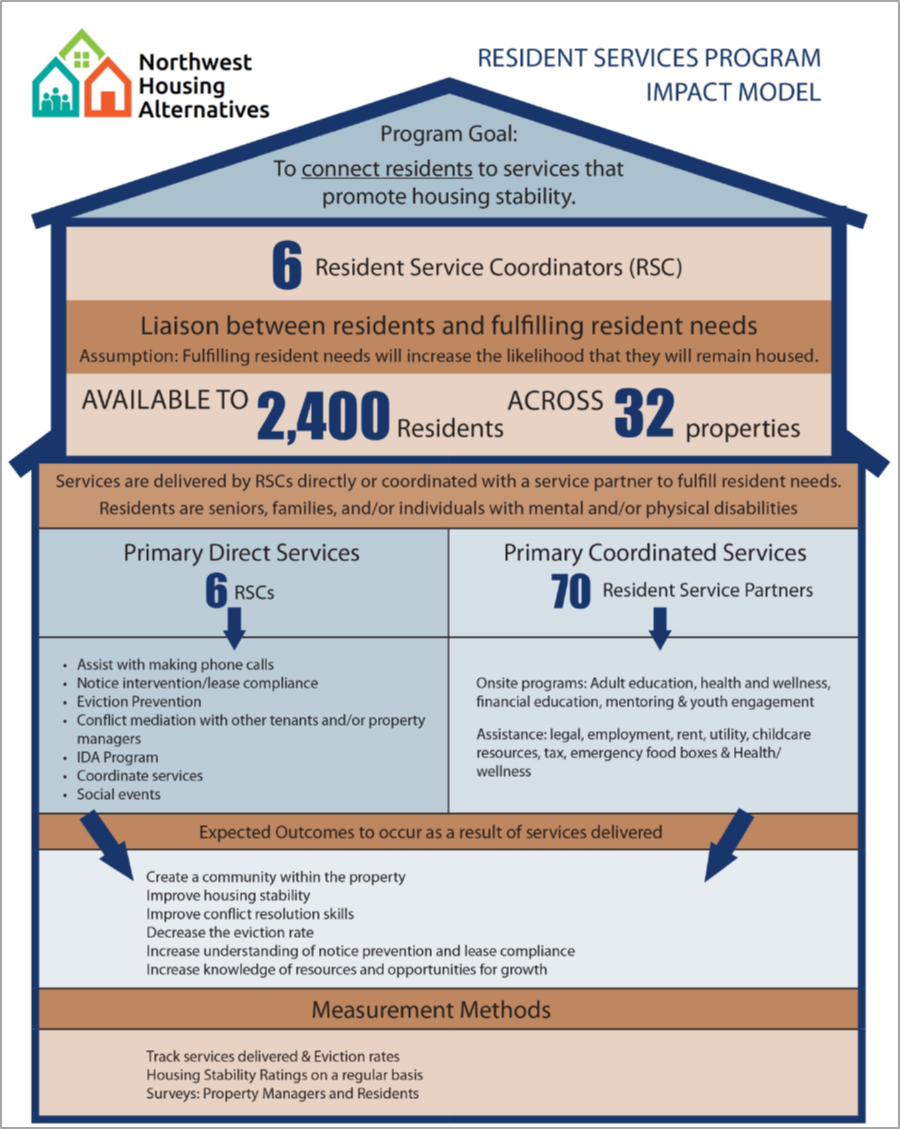 Leveraging Technology for Program Insights
The case study describes how a new software application was required to track the intake process, service forms, event attendance, move in/move out, and other relevant monitoring needs on an ongoing basis. As part of their evaluation design process, NHA worked with Exponent Partners to leverage the ECM app. This software technology selection was driven by three factors:
ease of use
cost
ability to easily pull information and cross-reference data points
The NHA paper continues:
The most important consideration was malleability; we needed a database that could be designed exactly as we envisioned it and continue to be adapted as our program shifted and changed.
The flexibility of this program has allowed us to glean a tremendous amount of insight into our impact. For example, we were able to determine that the average stability level of NHA households requesting services is 2.55 on a scale of 1 (low risk of losing housing) to 5 (high risk of losing housing). However, we can isolate housing stability data at specific properties to identify whether the community is more or less stable, and adjust intervention strategies and program planning accordingly.
Demonstrating Impact and Driving Results
The evolution of NHA's Resident Services program evaluation and data culture has been a resounding success. NHA is now able to accurately describe Resident Services and effectively communicate the program's impact. In fact, the new Resident Services data helped the team secure two of their largest grants to date.
Exponent Partners builds whole organization solutions on the Salesforce platform to help nonprofits like NHA make social change by measuring outcomes and impact. ECM provides more than automated workflow and alerts, access on mobile devices, drag and drop reporting, and outcomes management. ECM also helps nonprofits demonstrate results to funders, improve program interventions, and drive social impact for good.
Want to see ECM in action? Register for our next webinar and live demo or contact us today!